Hiring a York Wedding Car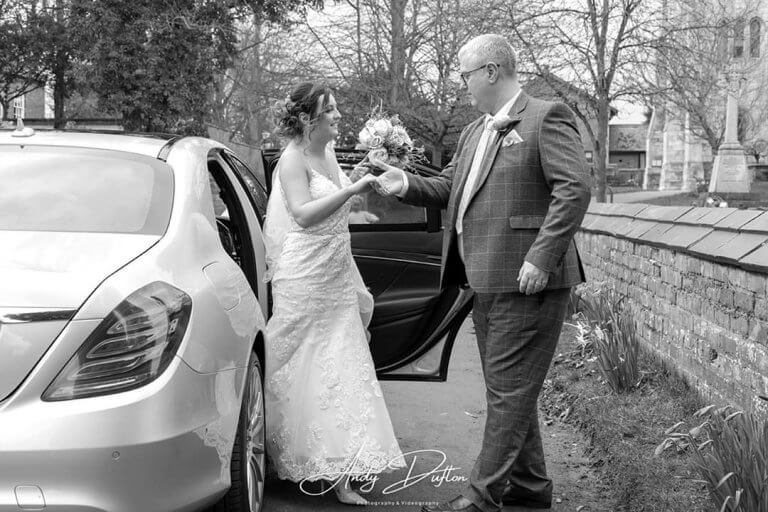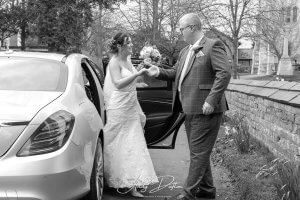 Your wedding day is one of the most special days of your life, such a momentous occasion deserves a very special wedding car service. Executive Cars York will provide this for you, you may have a specific idea of what you want from your wedding chauffeur, we can discuss all your requirements and tailor your wedding cars to suit your needs, we know that no two weddings are the same, We offer a guaranteed level of service for all wedding occasions.
The York Wedding Chauffeur
You can expect a professional and fully experienced chauffeur driver on your wedding day in York. The chauffeur will be immaculately dressed in a smart suit and tie, the chauffeur will arrive at least 15 minutes before the appointment time to help ease any nerves. He will have already studied the routes to your wedding venue and will be down to the minute on timings, this as we all know is crucial, he will then wait while you get married then take you on to your venue if this is different to the marriage ceremony

Your Wedding Car in York
When you choose one of our Mercedes s class cars complete with ribbons and bows, You can expect a freshly valeted car inside and out, all our wedding day car hire comes complete with Free wedding car ribbons and bows, the car will be beyond immaculate it will be valeted to within an inch of its life, our Mercedes s class wedding cars are loved by photographers because they look stunning in photos, all our cars are in brilliant silver, we can back the wedding car up with a matching Mercedes Viano for the bridesmaids, it will carry up to 7 passengers it will also be sporting ribbons and bows for free.
I hope this information gives you a small insight in to our professional wedding car service for the city of York i realise you will have many more questions to ask and small details which may be personal to you please ring us on 01904 693297 or alternatively Email us on executivecarsyork@gmail.com.
Stunning Mercedes S Class Wedding Car


Wedding Chauffeurs In York
Executive Cars York has been serving York with a professional wedding chauffeur service for over 10 years. Throughout this period of time we have satisfied numerous challenges posed by our clients providing wedding car hire in York, some of which have been very unique.
We have also seen many changes in the technology available to complement and enhance our level of service for our chauffeur driven wedding cars. Our core philosophy has been to deliver the most professional and reliable wedding car service in York. We have an impressive company owned fleet of top of the range Mercedes s class chauffeur driven vehicles, an exceptional team of impeccably presented professional York chauffeurs, plus efficient backroom support staff to ensure everything runs smoothly and exactly to plan.
Executive Cars York / Luxury Car Service In York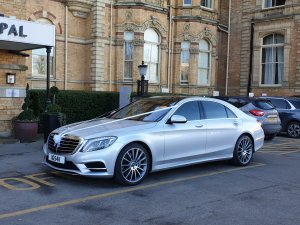 Here at Executive Cars York, we firmly believe that when it comes to travel there is nothing quite like being chauffeur driven in the ultimate vehicle the Mercedes S Class long wheel base limousine version. You get to sit back recline your rear seat and relax in comfort whilst a professional driver ensures that you arrive at your chosen destination safely. Whether you have to do a lot of travelling for business or you fancy a treat, at Executive Cars York we will be able to provide you with a full chauffeur experience that you will love. With us you really do get to travel in style and our executive vehicles will come complete with Wi-Fi and upgraded nappa leather interior for your convenience.
It doesn't matter whether you need collecting and transporting locally throughout York, Harrogate, Selby, Malton or Wetherby, or if you need picking up from the other side of London we will be able to help you. You can also rely on us to be with you at the required date and time. we will be waiting for you early rather than the other way around
If you fancy being chauffeur driven by the leading chauffeur company in York and Yorkshire then please give us a call on 01904 693 297. We will be more than happy to assist you further and we look forward to hearing from you.
When you need a professional Wedding Chauffeur.. Choose Executive Cars York
Contact Us : 01904 693297
Executive Cars York, Mark Heaney, 11 Archer Close, York, YO30 6FB
01904 693297 | executivecarsyork@gmail.com | About Us | News
York based chauffeurs specialising in executive chauffeur driven cars and chauffeur hire across North Yorkshire.